HONG KONG, Feb 8, 2023 – (ACN Newswire via SEAPRWire.com) – SEMK Holdings International Limited ("SEMK", together with its subsidiaries, the "Group", stock code: 2250.HK), the largest domestic character Intellectual Property (IP) company in China, which provides licensing services, design consultation services and retail of licensed brand products of its own B.Duck family characters, announced today that shareholders have approved at the extraordinary general meeting held yesterday for the Group to change its English name from "Semk Holdings International Limited" to "B.Duck Semk Holdings International Limited". The name changes match the Group's strategic moves reflective of its long-term development direction.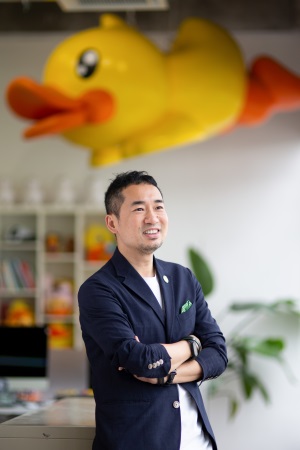 Mr. Eddie Hui, Chairman and Chief Executive Officer of SEMK
Mr. Eddie Hui, Chairman and Chief Executive Officer of SEMK, said, "SEMK is in its 18th year this year and looking back, it has made many important milestones owed to the hard work of colleagues sharing the same goals. We believe including the flagship IP brand 'B.Duck' into the company name will see the Group stand out more, and perfect and elevate the image and tonality of the brand, as well as the sustainability and growth of the Group.
"As a long-term development strategy, the Group has worked hard in recent years on turning its IP brand into a trendy brand that appeals to young people. Our efforts included partnering with popular mobile games such as 'Identity V' and 'PUBG BATTLEGROUNDS' and launching joint products with new generation artists to meet young consumers' needs. The management hopes to change the traditional ways of expression of the Group's IP brands, shaking off the old labels and injecting into them new energy, making them more youthful and giving them more vivid positioning."
In 2021, B.Duck topped all Chinese original IPs in the domestic IP licensing market in terms of revenue. It is not easy for a relatively young brand like B.Duck to earn a place in the talent-abundant IP market. Listed on the Main Board of HKEX in early 2022, the Group boarded a larger stage for its business to develop in the future. After the name change, the Group will embark on a new journey with new vision and together with loyal B.Duck supporters make new milestones.
The management understands that on top of fortifying the Group's foundation, improving brand diversity and overall market penetration, and bringing value to the industry will also be important considerations for it in formulating future development strategies. To promote continuous growth of the Group's business and realize the long-term strategic vision of reflecting the soft power of Chinese culture, the Group has drawn up a clear "Three-Year Development Plan" that entails "horizontal" and "vertical" initiatives to help it achieve resource integration and synergies with upstream and downstream players and industry peers.
The Group will continue to implement business diversification strategy, with a focus on enhancing its IP matrix, developing creativity and investing in potential brands in its value chain. It will also actively develop cross-border e-commerce in the Southeast Asia market, fully integrating online-offline businesses and add market channels. It is worth noting that the Group has previously established a joint venture company to operate e-commerce and licensing business in Thailand. Thailand is currently the largest overseas licensing region of the Group, with a 23% forecasted compound annual growth rate for e-commerce in the next three years, which shows great potential for development. B.Duck has an established local fan base in Southeast Asia, and it has effectively achieved the strategic development goal of accelerating fan dissemination and monetization by enhancing product exposure and coverage. In addition, the other shareholder of the joint venture company has extensive cross-border e-commerce logistics experience. Therefore, the Group plans to export its own e-commerce business and products developed by licensees in Mainland China to Thailand. It will also cooperate with different types of local institutions to form a full range of collaborations, including but not limited to co-branded products, outdoor advertising, and location-cased entertainment licensing projects and so forth. The Group will also develop a unique style guide, derivative product design, and licensing business expansion for its partners' IP. The two parties have joined forces to generate synergistic value and strive to replicate the successful business model in Mainland China to the Southeast Asian market.
In addition, heeding web 3.0 development, the Group will explore the metaverse community and build online-offline private domain traffic pools for its brands, and strive to expand product dimensions and explore fashionable brands and designer toys, so as to boost total income and operation scale. In order to further consolidate the B.Duck's brand positioning, the Group launched a Gen Z business line – B.Studio, a creative and trendy boutique retail brand with a core user group in hopes to establish a digital marketing system through marketing strategies such as private domain mini-programs, grass marketing, social interaction, and boutique pop-up stores. This will provide a data foundation for the development of new products, the improvement and optimization of management services, and the analysis of consumption data, enabling the Group to more accurately identify target groups.
Mr Hui concluded, "Looking ahead, the Group will expand its high-quality IP matrix via its own development and incubation efforts, acquisitions and licensing agency, to press toward the strategic goal of becoming 'a high-quality integrated IP company'. Armed with comprehensive professional capabilities and extensive experience in development, design, operation, licensing and promotion of IPs, we will keep working hard on integrating and developing our online and offline businesses and promote cross-channel spending among consumers. Our online development plan covers items such as film and TV, animation, games and metaverse, and our offline consumption scenarios cover consumer goods supply chain, all categories of designer toys and physical entertainment. Offline exposure is an important part of brand-building, and the physical scenes and products can clearly illustrate the personality of B.Duck. The recovery of the global economy and the recovery of offline economic activities will provide us with a huge room for development in the offline consumption market.
"Exploration of new possibilities begins with braving the unknown. B.Duck Semk will relentlessly make new attempts and pursue different creative tracks, in its bid to become an evergreen IP brand."
About SEMK Holdings International Limited
SEMK Holdings International Limited (stock code: 2250.HK) is the largest domestic character IP company in China engaged in the provision of licensing services, design consultation services and retail of brand products of its self-created B.Duck family characters.
With strong in-house artistic design capabilities, SEMK has developed and nurtured a proprietary portfolio of approximately 26 self-created characters created under the motto of "Be Playful". As at 30 June 2022, B.Duck family characters had recorded in aggregate more than 19 million subscriptions or follows by B.Duck fans on various e-commerce platforms and social networking platforms.
Media Enquiries:
Strategic Financial Relations Limited
Heidi So Tel: (852) 2864 4826 Email: heidi.so@sprg.com.hk
Rachel Ko Tel: (852) 2114 2370 Email: rachel.ko@sprg.com.hk
Maggie Ko Tel: (852) 2864 4890 Email: maggie.ko@sprg.com.hk
Website: www.sprg.com.hk
Copyright 2023 ACN Newswire. All rights reserved. (via SEAPRWire)