HONG KONG, Jan 17, 2023 – (ACN Newswire via SEAPRWire.com) – With this year's Avant Garde theme, the 22nd Hong Kong Eyewear Design Competition's winning pieces reflected the creativity, acute sense of style and boundless imagination of local designers. The competition aims to encourage innovation and enhance the design quality of Hong Kong eyewear products, identify new talents and promote Hong Kong's creative products to international markets.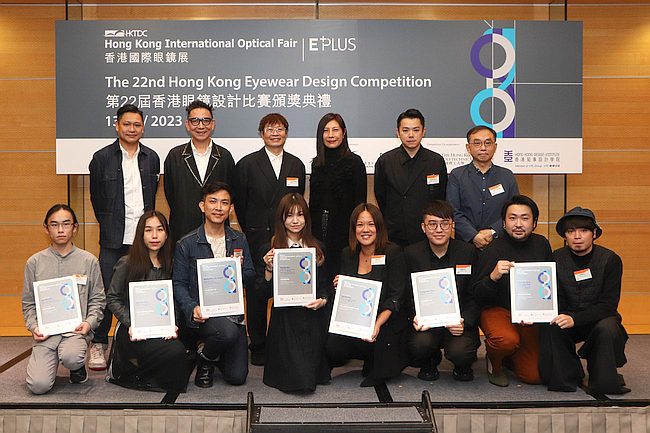 The 22nd Hong Kong Eyewear Design Competition Award Presentation Ceremony was held on 13 January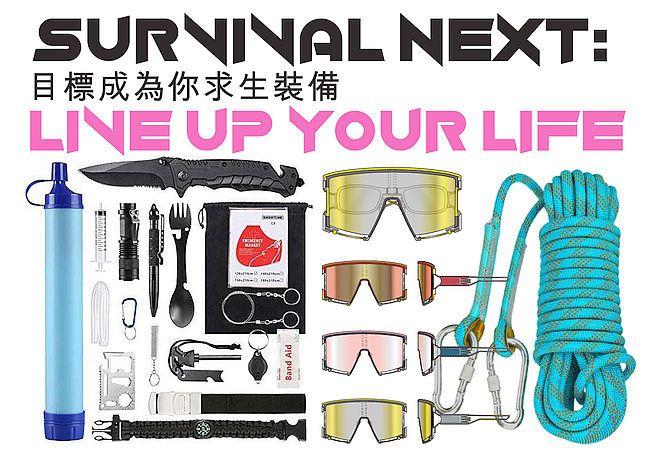 "Survival Next" – Champion of the Open Group and Made-to-Sell Award
The award presentation held on 13 January was organised by the Hong Kong Trade Development Council (HKTDC) and the Hong Kong Optical Manufacturers Association, with the Hong Kong Polytechnic University and Hong Kong Design Institute as co-organisers.
The competition was divided into two categories: the Open Group and Student Group. The judging panel made up of experts in different disciplines evaluated the entries based on (1) product design, (2) practicability and functionality, (3) product description, (4) marketability and (5) presentation.
Winning pieces represent local innovation
Survival Next designed by Lai Pui Yan, BOBO from OKIA Optical Co. Ltd came top of the Open Group and received the Made-to-Sell Award. Her eyewear design was inspired by the gear NFT video game characters use for survival. The product allows wearers to travel between the virtual and real worlds.
Representing Sun Hing Vision Group Holdings Limited, Leung Ngai Ming's Turning was the first runner-up of the Open Group with his futuristic folding sunglasses. With a 360-degree hinge, the eyewear can be changed into four forms, namely sunglasses, optical glasses, folding glasses and butterfly shapes.
The Open Group's second runner-up Chim Pui Ho & Lam Long Him's Time Traveler incorporated the concept of time travel into their design. The eyewear's left side represents the past through the use of traditional materials and techniques, while the right highlighted the future with a bolder appearance and colour tone, a perfect fusion of the past and future.
Discovering design talents of tomorrow
For the Student Group, Yip Tsz Yan of the School for Higher and Professional Education, took first place with her Parallel Universe design. The eyewear's intricate geometric and parallelism design represent the intersection between life and infinity.
Osseon designed by Wong Zhen Jie, Lionel of the Hong Kong Polytechnic University, was first runner-up of the Student Group. The design's surface undulations blur the boundaries between the exterior and interior. It can be produced by 3D printing, with tough but flexible PA12 nylon. It can be dyed in different colours to accentuate wearers' individual taste.
The Student Group's second runner-up was Lau Chi Sum of Youth College International. Titled Infinity, the design is composed of two semi-reflective lenses and a customisable layer of glowing powder between them. It appears to have an infinite depth with mutable colours and patterns, which can be customised for individual wearers.
The Creativity Award was presented to Law Hoi Shan, Jamela. Her Morphogenesis design encourages viewers to embrace transhuman aesthetics and envision humanity's evolution. Apart from correcting myopia, hyperopia and presbyopia, the multi-purpose accessory allows wearers to use different lenses to access diverse features, such as magnification, light polarisation and colour enhancement. By looking through different lenses, wearers are encouraged to look at the world through different eyes.
Apart from trophies, cash prizes and certificates, the winning works will be publicised on the website of the 31st Hong Kong International Optical Fair as well as the website and annual journal of the Hong Kong Optical Manufacturers Association. The winning pieces have the opportunity to be on display at international optical events.
Hong Kong International Optical Fair helps create opportunities
The 31st Hong Kong International Optical Fair will take place from 8 to 10 November 2023 at the Hong Kong Convention and Exhibition Centre (HKCEC), while the online exhibition will run from 8 to 17 November 2023.
Meanwhile, the HKTDC has arranged select exhibitors and buyers to try out the Click2Match smart business matching platform and meet online from 9 to 11 January 2023. The platform features meeting scheduling, video conferencing, instant messaging, message translation and file-sharing to facilitate communication between exhibitors and buyers.
Fair website:
– Hong Kong International Optical Fair: https://hkopticalfair.hktdc.com/
– Photo Download: https://bit.ly/3iC8UGw
About the HKTDC
The Hong Kong Trade Development Council (HKTDC) is a statutory body established in 1966 to promote, assist and develop Hong Kong's trade. With 50 offices globally, including 13 in Mainland China, the HKTDC promotes Hong Kong as a two-way global investment and business hub. The HKTDC organises international exhibitions, conferences and business missions to create business opportunities for companies, particularly small and medium-sized enterprises (SMEs), in the mainland and international markets. The HKTDC also provides up-to-date market insights and product information via research reports and digital news channels. For more information, please visit: www.hktdc.com/aboutus Follow us on Twitter @hktdc and LinkedIn.
Media enquiries:
HKTDC's Communications & Public Affairs Department:
Kate Chan, Tel: +852 2584 4239, Email: kate.hy.chan@hktdc.org
Agnes Wat, Tel: +852 2584 4554, Email: agnes.ky.wat@hktdc.org
Copyright 2023 ACN Newswire. All rights reserved. (via SEAPRWire)